Discussion Starter
•
#1
•
MISSED ME?!?! (probably not!!)
So the last time I was on here I was saying my goodbyes as I was getting rid of my wee baby High Up! Was such a sad day that was :,(
Since then a LOT of stuff has happened, I'll try to give you the shirt version. So my BF was looking to get himself a car, I suggested he went and got a Seat Mii, no deposit, lots of goodies and cheap to run! All went smoothly, he got himself a sexy wee Red Mii. Two days later my mother went into the same dealer and got herself one
Happy days!
Three weeks later, Deans Mii broke
It developed this horrible juddering and was completely dangerous to drive. So he took it back to get fixed. Seat didn't have a clue!! They had the car for TWO MONTHS before finding out what was up with it. During that time Dean was given a poopy hire car that was fallen apart, kept getting fobbed off my the after sales manager who couldn't tell the difference from his elbow and his @rse hole. Eventually we decided to "reject" the car. We did everything properly, wrote to the Dealer, Seat themselves and also VW finance. Basically the Dealer @rsed about and didn't listen to us. So after MANY complaints to Seat, Trading Standards and so on, we finally got a meeting with the Dealer Manager who kindly bought back the Mii and canceled the finance.
It was a very stressful and pain in the neck experience and will NEVER deal with Alistair Fleming, Dundee ever again.
Afterwards, I told Dean to get down to Volkswagen in Dundee (where I bought my Up! from) and see what they could do. Well they could not do enough for Dean, helped him out big time after they heard what we had been through. The sales man took a lovely wee discount off, put a rush on his order, gave him 3 years free servicing, 1 year free insurance, and Dean got an even better car than the Mii.
SO I GIVE YOU!!! Our brand new Volkswagen Groove Up in Sunset Orange
It is a BELTER of a wee car, funky colour (dash to match) lovely interior, amazing Fender speaker system and goes like stink!!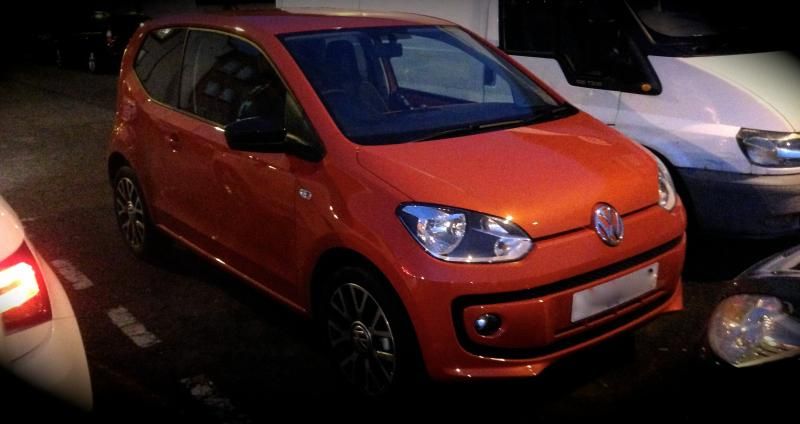 Im so happy we've ended up with another Up! its a great wee car, he is over the moon with it!! Sits very nicely next too my baby Audi A1 S-Line, WHICH by the way is running fantastically thank you for asking