Discussion Starter
·
#1
·
I love my Brodit phone holder, because:
unlike most aftermarket solutions it is robust and made with precision;
unlike the factory cradle, 1) you just drop the phone in, no need to squeeze or adjust anything to hold it and 2) it holds the phone in portrait mode.
So the aim is to use only the back half of the factory cradle, the bit that mounts to the dash. That has a MALE Richter interface. Unfortunately, there does not seem to be a FEMALE Richter to Brodit adapter available anywhere. So I bought this off ebay for less than £4: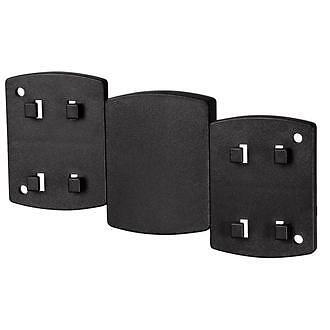 You can't see from the listing but of course the back of the centre of this item is a female interface. So I got busy with the hacksaw:
The smooth face of the centre piece is a separate pop-out piece, so I superglued it in place to avoid it separating later on when it becomes a load bearing part of the mount (photo doesn't actually show much here, too busy getting superglue off my hands...):
Essentially, that's it. Everything from this point onwards is just stuff you would do to mount a Brodit phone holder to any suitable clip or other surface.
I then mounted the back of the Brodit swivel mount, using the 4 Brodit supplied screws, to my new female adapter:
And then slid the 2 Richter interfaces together:
Then screwed the Brodit swivel mount back together and fitted the whole thing to the dash:
My phone is a 6.8" Moto G9 Plus, and it does seem to sit a little high with this arrangement, but if it was any lower it would make operation of the a/c button and fan speed control difficult. There has to be some compromise with a large phone in portrait mode I guess.
That issue apart, this is a great setup. Same stability and easy connection of a USB cable as with the factory cradle, but also much easier insertion and removal of phone, portrait orientation, no limit on phone size, ability to orient phone to face driver.
Hope this is useful