Discussion Starter
·
#1
·
<!--if gte mso 9>
<w:Word>
<w:View>Normal</w:View>
<w:Zoom>0</w:Zoom>
<w:TrackMoves/>
<w:Trackatting/>
<w
unctuationKerning/>
<w:ValidateAgainstSchemas/>
<w:SaveIfInvalid>false</w:SaveIfInvalid>
<w:IgnoreMixed>false</w:IgnoreMixed>
<w:AlwaysShowPlaceholderText>false</w:AlwaysShowPlaceholderText>
<w
onotPromoteQF/>
<w:LidThemeOther>EN-GB</w:LidThemeOther>
<w:LidThemeAsian>X-NONE</w:LidThemeAsian>
<w:LidThemeComplex>X-NONE</w:LidThemeComplex>
<w:Compatibility>
<w:BreakWrappedTables/>
<w:SnapToGridInCell/>
<w:WrapTextWithPunct/>
<w:UseAsianBreakRules/>
<w
ontGrowAutofit/>
<w:SplitPgBreakAndark/>
<w
ontVertAlignCellWithSp/>
<w
ontBreakConstrainedForcedTables/>
<w
ontVertAlignInTxbx/>
<w:Word11KerningPairs/>
<w:CachedColBalance/>
</w:Compatibility>
<w:BrowserLevel>MicrosoftInternetExplorer4</w:BrowserLevel>
<m:mathPr>
<m:mathFont m:val="Cambria Math"/>
<m:brkBin m:val="before"/>
<m:brkBinSub m:val="--"/>
<m:smallFrac m:val="off"/>
<m:dispDef/>
<m:lMargin m:val="0"/>
<m:rMargin m:val="0"/>
<m:defJc m:val="centerGroup"/>
<m:wrapIndent m:val="1440"/>
<m:intLim m:val="subSup"/>
<m:naryLim m:val="undOvr"/>
</m:mathPr></w:Word>
<!--><!--if gte mso 9>
<w:LatentStyles DefLockedState="false" DefUnhideWhenUsed="true" DefSemi="true" DefQat="false" DefPriority="99" LatentStyleCount="267">
<w:LsdException Locked="false" Priority="0" Semi="false" UnhideWhenUsed="false" Qat="true" Name="Normal"/>
<w:LsdException Locked="false" Priority="9" Semi="false" UnhideWhenUsed="false" Qat="true" Name="ing 1"/>
<w:LsdException Locked="false" Priority="9" Qat="true" Name="ing 2"/>
<w:LsdException Locked="false" Priority="9" Qat="true" Name="ing 3"/>
<w:LsdException Locked="false" Priority="9" Qat="true" Name="ing 4"/>
<w:LsdException Locked="false" Priority="9" Qat="true" Name="ing 5"/>
<w:LsdException Locked="false" Priority="9" Qat="true" Name="ing 6"/>
<w:LsdException Locked="false" Priority="9" Qat="true" Name="ing 7"/>
<w:LsdException Locked="false" Priority="9" Qat="true" Name="ing 8"/>
<w:LsdException Locked="false" Priority="9" Qat="true" Name="ing 9"/>
<w:LsdException Locked="false" Priority="39" Name="toc 1"/>
<w:LsdException Locked="false" Priority="39" Name="toc 2"/>
<w:LsdException Locked="false" Priority="39" Name="toc 3"/>
<w:LsdException Locked="false" Priority="39" Name="toc 4"/>
<w:LsdException Locked="false" Priority="39" Name="toc 5"/>
<w:LsdException Locked="false" Priority="39" Name="toc 6"/>
<w:LsdException Locked="false" Priority="39" Name="toc 7"/>
<w:LsdException Locked="false" Priority="39" Name="toc 8"/>
<w:LsdException Locked="false" Priority="39" Name="toc 9"/>
<w:LsdException Locked="false" Priority="35" Qat="true" Name="caption"/>
<w:LsdException Locked="false" Priority="10" Semi="false" UnhideWhenUsed="false" Qat="true" Name="Title"/>
<w:LsdException Locked="false" Priority="1" Name="Default Paragraph Font"/>
<w:LsdException Locked="false" Priority="11" Semi="false" UnhideWhenUsed="false" Qat="true" Name="Subtitle"/>
<w:LsdException Locked="false" Priority="22" Semi="false" UnhideWhenUsed="false" Qat="true" Name="Strong"/>
<w:LsdException Locked="false" Priority="20" Semi="false" UnhideWhenUsed="false" Qat="true" Name="Emphasis"/>
<w:LsdException Locked="false" Priority="59" Semi="false" UnhideWhenUsed="false" Name="Table Grid"/>
<w:LsdException Locked="false" UnhideWhenUsed="false" Name="Placeholder Text"/>
<w:LsdException Locked="false" Priority="1" Semi="false" UnhideWhenUsed="false" Qat="true" Name="No Spacing"/>
<w:LsdException Locked="false" Priority="60" Semi="false" UnhideWhenUsed="false" Name="Light Shading"/>
<w:LsdException Locked="false" Priority="61" Semi="false" UnhideWhenUsed="false" Name="Light List"/>
<w:LsdException Locked="false" Priority="62" Semi="false" UnhideWhenUsed="false" Name="Light Grid"/>
<w:LsdException Locked="false" Priority="63" Semi="false" UnhideWhenUsed="false" Name="Medium Shading 1"/>
<w:LsdException Locked="false" Priority="64" Semi="false" UnhideWhenUsed="false" Name="Medium Shading 2"/>
<w:LsdException Locked="false" Priority="65" Semi="false" UnhideWhenUsed="false" Name="Medium List 1"/>
<w:LsdException Locked="false" Priority="66" Semi="false" UnhideWhenUsed="false" Name="Medium List 2"/>
<w:LsdException Locked="false" Priority="67" Semi="false" UnhideWhenUsed="false" Name="Medium Grid 1"/>
<w:LsdException Locked="false" Priority="68" Semi="false" UnhideWhenUsed="false" Name="Medium Grid 2"/>
<w:LsdException Locked="false" Priority="69" Semi="false" UnhideWhenUsed="false" Name="Medium Grid 3"/>
<w:LsdException Locked="false" Priority="70" Semi="false" UnhideWhenUsed="false" Name="Dark List"/>
<w:LsdException Locked="false" Priority="71" Semi="false" UnhideWhenUsed="false" Name="Colorful Shading"/>
<w:LsdException Locked="false" Priority="72" Semi="false" UnhideWhenUsed="false" Name="Colorful List"/>
<w:LsdException Locked="false" Priority="73" Semi="false" UnhideWhenUsed="false" Name="Colorful Grid"/>
<w:LsdException Locked="false" Priority="60" Semi="false" UnhideWhenUsed="false" Name="Light Shading Accent 1"/>
<w:LsdException Locked="false" Priority="61" Semi="false" UnhideWhenUsed="false" Name="Light List Accent 1"/>
<w:LsdException Locked="false" Priority="62" Semi="false" UnhideWhenUsed="false" Name="Light Grid Accent 1"/>
<w:LsdException Locked="false" Priority="63" Semi="false" UnhideWhenUsed="false" Name="Medium Shading 1 Accent 1"/>
<w:LsdException Locked="false" Priority="64" Semi="false" UnhideWhenUsed="false" Name="Medium Shading 2 Accent 1"/>
<w:LsdException Locked="false" Priority="65" Semi="false" UnhideWhenUsed="false" Name="Medium List 1 Accent 1"/>
<w:LsdException Locked="false" UnhideWhenUsed="false" Name="Revision"/>
<w:LsdException Locked="false" Priority="34" Semi="false" UnhideWhenUsed="false" Qat="true" Name="List Paragraph"/>
<w:LsdException Locked="false" Priority="29" Semi="false" UnhideWhenUsed="false" Qat="true" Name="Quote"/>
<w:LsdException Locked="false" Priority="30" Semi="false" UnhideWhenUsed="false" Qat="true" Name="Intense Quote"/>
<w:LsdException Locked="false" Priority="66" Semi="false" UnhideWhenUsed="false" Name="Medium List 2 Accent 1"/>
<w:LsdException Locked="false" Priority="67" Semi="false" UnhideWhenUsed="false" Name="Medium Grid 1 Accent 1"/>
<w:LsdException Locked="false" Priority="68" Semi="false" UnhideWhenUsed="false" Name="Medium Grid 2 Accent 1"/>
<w:LsdException Locked="false" Priority="69" Semi="false" UnhideWhenUsed="false" Name="Medium Grid 3 Accent 1"/>
<w:LsdException Locked="false" Priority="70" Semi="false" UnhideWhenUsed="false" Name="Dark List Accent 1"/>
<w:LsdException Locked="false" Priority="71" Semi="false" UnhideWhenUsed="false" Name="Colorful Shading Accent 1"/>
<w:LsdException Locked="false" Priority="72" Semi="false" UnhideWhenUsed="false" Name="Colorful List Accent 1"/>
<w:LsdException Locked="false" Priority="73" Semi="false" UnhideWhenUsed="false" Name="Colorful Grid Accent 1"/>
<w:LsdException Locked="false" Priority="60" Semi="false" UnhideWhenUsed="false" Name="Light Shading Accent 2"/>
<w:LsdException Locked="false" Priority="61" Semi="false" UnhideWhenUsed="false" Name="Light List Accent 2"/>
<w:LsdException Locked="false" Priority="62" Semi="false" UnhideWhenUsed="false" Name="Light Grid Accent 2"/>
<w:LsdException Locked="false" Priority="63" Semi="false" UnhideWhenUsed="false" Name="Medium Shading 1 Accent 2"/>
<w:LsdException Locked="false" Priority="64" Semi="false" UnhideWhenUsed="false" Name="Medium Shading 2 Accent 2"/>
<w:LsdException Locked="false" Priority="65" Semi="false" UnhideWhenUsed="false" Name="Medium List 1 Accent 2"/>
<w:LsdException Locked="false" Priority="66" Semi="false" UnhideWhenUsed="false" Name="Medium List 2 Accent 2"/>
<w:LsdException Locked="false" Priority="67" Semi="false" UnhideWhenUsed="false" Name="Medium Grid 1 Accent 2"/>
<w:LsdException Locked="false" Priority="68" Semi="false" UnhideWhenUsed="false" Name="Medium Grid 2 Accent 2"/>
<w:LsdException Locked="false" Priority="69" Semi="false" UnhideWhenUsed="false" Name="Medium Grid 3 Accent 2"/>
<w:LsdException Locked="false" Priority="70" Semi="false" UnhideWhenUsed="false" Name="Dark List Accent 2"/>
<w:LsdException Locked="false" Priority="71" Semi="false" UnhideWhenUsed="false" Name="Colorful Shading Accent 2"/>
<w:LsdException Locked="false" Priority="72" Semi="false" UnhideWhenUsed="false" Name="Colorful List Accent 2"/>
<w:LsdException Locked="false" Priority="73" Semi="false" UnhideWhenUsed="false" Name="Colorful Grid Accent 2"/>
<w:LsdException Locked="false" Priority="60" Semi="false" UnhideWhenUsed="false" Name="Light Shading Accent 3"/>
<w:LsdException Locked="false" Priority="61" Semi="false" UnhideWhenUsed="false" Name="Light List Accent 3"/>
<w:LsdException Locked="false" Priority="62" Semi="false" UnhideWhenUsed="false" Name="Light Grid Accent 3"/>
<w:LsdException Locked="false" Priority="63" Semi="false" UnhideWhenUsed="false" Name="Medium Shading 1 Accent 3"/>
<w:LsdException Locked="false" Priority="64" Semi="false" UnhideWhenUsed="false" Name="Medium Shading 2 Accent 3"/>
<w:LsdException Locked="false" Priority="65" Semi="false" UnhideWhenUsed="false" Name="Medium List 1 Accent 3"/>
<w:LsdException Locked="false" Priority="66" Semi="false" UnhideWhenUsed="false" Name="Medium List 2 Accent 3"/>
<w:LsdException Locked="false" Priority="67" Semi="false" UnhideWhenUsed="false" Name="Medium Grid 1 Accent 3"/>
<w:LsdException Locked="false" Priority="68" Semi="false" UnhideWhenUsed="false" Name="Medium Grid 2 Accent 3"/>
<w:LsdException Locked="false" Priority="69" Semi="false" UnhideWhenUsed="false" Name="Medium Grid 3 Accent 3"/>
<w:LsdException Locked="false" Priority="70" Semi="false" UnhideWhenUsed="false" Name="Dark List Accent 3"/>
<w:LsdException Locked="false" Priority="71" Semi="false" UnhideWhenUsed="false" Name="Colorful Shading Accent 3"/>
<w:LsdException Locked="false" Priority="72" Semi="false" UnhideWhenUsed="false" Name="Colorful List Accent 3"/>
<w:LsdException Locked="false" Priority="73" Semi="false" UnhideWhenUsed="false" Name="Colorful Grid Accent 3"/>
<w:LsdException Locked="false" Priority="60" Semi="false" UnhideWhenUsed="false" Name="Light Shading Accent 4"/>
<w:LsdException Locked="false" Priority="61" Semi="false" UnhideWhenUsed="false" Name="Light List Accent 4"/>
<w:LsdException Locked="false" Priority="62" Semi="false" UnhideWhenUsed="false" Name="Light Grid Accent 4"/>
<w:LsdException Locked="false" Priority="63" Semi="false" UnhideWhenUsed="false" Name="Medium Shading 1 Accent 4"/>
<w:LsdException Locked="false" Priority="64" Semi="false" UnhideWhenUsed="false" Name="Medium Shading 2 Accent 4"/>
<w:LsdException Locked="false" Priority="65" Semi="false" UnhideWhenUsed="false" Name="Medium List 1 Accent 4"/>
<w:LsdException Locked="false" Priority="66" Semi="false" UnhideWhenUsed="false" Name="Medium List 2 Accent 4"/>
<w:LsdException Locked="false" Priority="67" Semi="false" UnhideWhenUsed="false" Name="Medium Grid 1 Accent 4"/>
<w:LsdException Locked="false" Priority="68" Semi="false" UnhideWhenUsed="false" Name="Medium Grid 2 Accent 4"/>
<w:LsdException Locked="false" Priority="69" Semi="false" UnhideWhenUsed="false" Name="Medium Grid 3 Accent 4"/>
<w:LsdException Locked="false" Priority="70" Semi="false" UnhideWhenUsed="false" Name="Dark List Accent 4"/>
<w:LsdException Locked="false" Priority="71" Semi="false" UnhideWhenUsed="false" Name="Colorful Shading Accent 4"/>
<w:LsdException Locked="false" Priority="72" Semi="false" UnhideWhenUsed="false" Name="Colorful List Accent 4"/>
<w:LsdException Locked="false" Priority="73" Semi="false" UnhideWhenUsed="false" Name="Colorful Grid Accent 4"/>
<w:LsdException Locked="false" Priority="60" Semi="false" UnhideWhenUsed="false" Name="Light Shading Accent 5"/>
<w:LsdException Locked="false" Priority="61" Semi="false" UnhideWhenUsed="false" Name="Light List Accent 5"/>
<w:LsdException Locked="false" Priority="62" Semi="false" UnhideWhenUsed="false" Name="Light Grid Accent 5"/>
<w:LsdException Locked="false" Priority="63" Semi="false" UnhideWhenUsed="false" Name="Medium Shading 1 Accent 5"/>
<w:LsdException Locked="false" Priority="64" Semi="false" UnhideWhenUsed="false" Name="Medium Shading 2 Accent 5"/>
<w:LsdException Locked="false" Priority="65" Semi="false" UnhideWhenUsed="false" Name="Medium List 1 Accent 5"/>
<w:LsdException Locked="false" Priority="66" Semi="false" UnhideWhenUsed="false" Name="Medium List 2 Accent 5"/>
<w:LsdException Locked="false" Priority="67" Semi="false" UnhideWhenUsed="false" Name="Medium Grid 1 Accent 5"/>
<w:LsdException Locked="false" Priority="68" Semi="false" UnhideWhenUsed="false" Name="Medium Grid 2 Accent 5"/>
<w:LsdException Locked="false" Priority="69" Semi="false" UnhideWhenUsed="false" Name="Medium Grid 3 Accent 5"/>
<w:LsdException Locked="false" Priority="70" Semi="false" UnhideWhenUsed="false" Name="Dark List Accent 5"/>
<w:LsdException Locked="false" Priority="71" Semi="false" UnhideWhenUsed="false" Name="Colorful Shading Accent 5"/>
<w:LsdException Locked="false" Priority="72" Semi="false" UnhideWhenUsed="false" Name="Colorful List Accent 5"/>
<w:LsdException Locked="false" Priority="73" Semi="false" UnhideWhenUsed="false" Name="Colorful Grid Accent 5"/>
<w:LsdException Locked="false" Priority="60" Semi="false" UnhideWhenUsed="false" Name="Light Shading Accent 6"/>
<w:LsdException Locked="false" Priority="61" Semi="false" UnhideWhenUsed="false" Name="Light List Accent 6"/>
<w:LsdException Locked="false" Priority="62" Semi="false" UnhideWhenUsed="false" Name="Light Grid Accent 6"/>
<w:LsdException Locked="false" Priority="63" Semi="false" UnhideWhenUsed="false" Name="Medium Shading 1 Accent 6"/>
<w:LsdException Locked="false" Priority="64" Semi="false" UnhideWhenUsed="false" Name="Medium Shading 2 Accent 6"/>
<w:LsdException Locked="false" Priority="65" Semi="false" UnhideWhenUsed="false" Name="Medium List 1 Accent 6"/>
<w:LsdException Locked="false" Priority="66" Semi="false" UnhideWhenUsed="false" Name="Medium List 2 Accent 6"/>
<w:LsdException Locked="false" Priority="67" Semi="false" UnhideWhenUsed="false" Name="Medium Grid 1 Accent 6"/>
<w:LsdException Locked="false" Priority="68" Semi="false" UnhideWhenUsed="false" Name="Medium Grid 2 Accent 6"/>
<w:LsdException Locked="false" Priority="69" Semi="false" UnhideWhenUsed="false" Name="Medium Grid 3 Accent 6"/>
<w:LsdException Locked="false" Priority="70" Semi="false" UnhideWhenUsed="false" Name="Dark List Accent 6"/>
<w:LsdException Locked="false" Priority="71" Semi="false" UnhideWhenUsed="false" Name="Colorful Shading Accent 6"/>
<w:LsdException Locked="false" Priority="72" Semi="false" UnhideWhenUsed="false" Name="Colorful List Accent 6"/>
<w:LsdException Locked="false" Priority="73" Semi="false" UnhideWhenUsed="false" Name="Colorful Grid Accent 6"/>
<w:LsdException Locked="false" Priority="19" Semi="false" UnhideWhenUsed="false" Qat="true" Name="Subtle Emphasis"/>
<w:LsdException Locked="false" Priority="21" Semi="false" UnhideWhenUsed="false" Qat="true" Name="Intense Emphasis"/>
<w:LsdException Locked="false" Priority="31" Semi="false" UnhideWhenUsed="false" Qat="true" Name="Subtle Reference"/>
<w:LsdException Locked="false" Priority="32" Semi="false" UnhideWhenUsed="false" Qat="true" Name="Intense Reference"/>
<w:LsdException Locked="false" Priority="33" Semi="false" UnhideWhenUsed="false" Qat="true" Name="Book Title"/>
<w:LsdException Locked="false" Priority="37" Name="Bibliography"/>
<w:LsdException Locked="false" Priority="39" Qat="true" Name="TOC ing"/>
</w:LatentStyles>
<!--><!--if gte mso 10>
/* Style Definitions */
table.MsoNormalTable
{mso-style-name:"Table Normal";
mso-tstyle-rowband-size:0;
mso-tstyle-colband-size:0;
mso-style-noshow:yes;
mso-style-priority:99;
mso-style-qformat:yes;
mso-style-parent:"";
mso-padding-alt:0cm 5.4pt 0cm 5.4pt;
mso-para-margin:0cm;
mso-para-margin-bottom:.0001pt;
mso-pagination:widow-orphan;
font-size:11.0pt;
font-family:"Calibri","sans-serif";
mso-ascii-font-family:Calibri;
mso-ascii-theme-font:minor-latin;
mso-fareast-font-family:"Times New Roman";
mso-fareast-theme-font:minor-fareast;
mso-hansi-font-family:Calibri;
mso-hansi-theme-font:minor-latin;
mso-bidi-font-family:"Times New Roman";
mso-bidi-theme-font:minor-bidi;}
<!-->
UP! and away for the weekend!
Our adventure started on Friday
evening when we went to Western Volkswagen at Fort Kinnaird to collect the UP!
Black from Kim. First of all, we were
most impressed that the boot quite happily held our small suitcase, 2 pairs of
walking boots and waterproofs, my laptop case and my camera rucksack with room
to spare! This goes for the inside of
the car as well. The cabin felt just as
spacious as my mk4 golf had with plenty of room and good placement of the
centre controls, well out of the way of the gear stick. After checking the route we were taking we
set off to Carlton Green Bed & Breakfast
website
http://www.carletongreen.co.uk/b&b.htm
in the Lake District.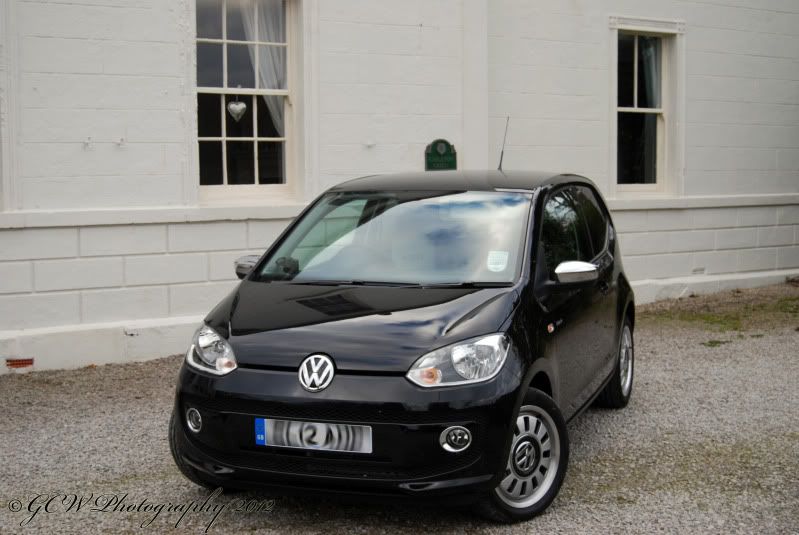 The UP! Black has a 75 bhp 1 Litre
engine, after previously owning a 1.9TDI golf we were a little concerned that we
may find the 3 cylinder engine lacking but how wrong we were. The car handled getting out of the city in
rush hour with particular flair and quite a few admiring glances. We travelled down the A7 where this city car
proved that it was equally comfortable on the open road. When going round corners it suggests the
optimum gear and takes them with ease, including those on an incline, and sticks
like glue with no under steer. Overtaking
other vehicles was not a problem, as it accelerates well through all gears to
deliver a smooth ride.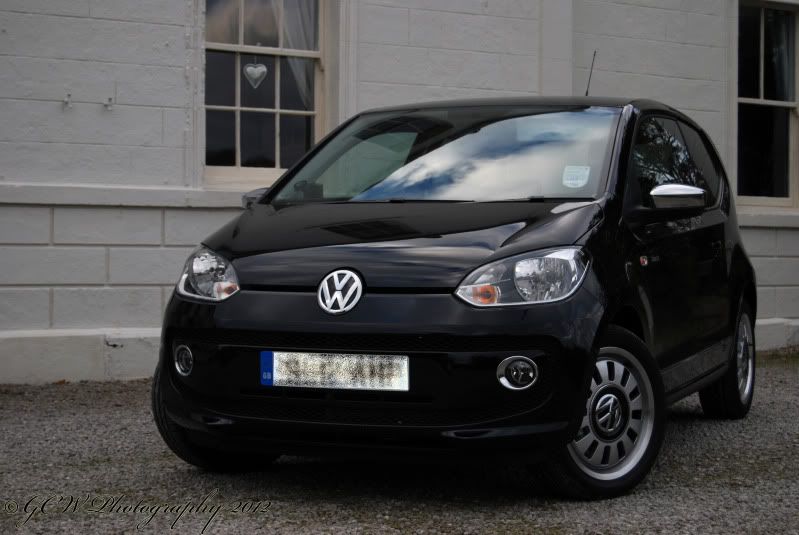 The visual reminder below the
speedometer tells you the optimum gear for travelling in making it a most
efficient wee car and in our case, more efficient drivers'! We were really impressed by the dash at dusk. Although the daylight running lights are on
all the time and the dash illuminated, when it gets to dusk the illuminated
instruments on the dash go dark to remind you to switch the lights on which is
just genius!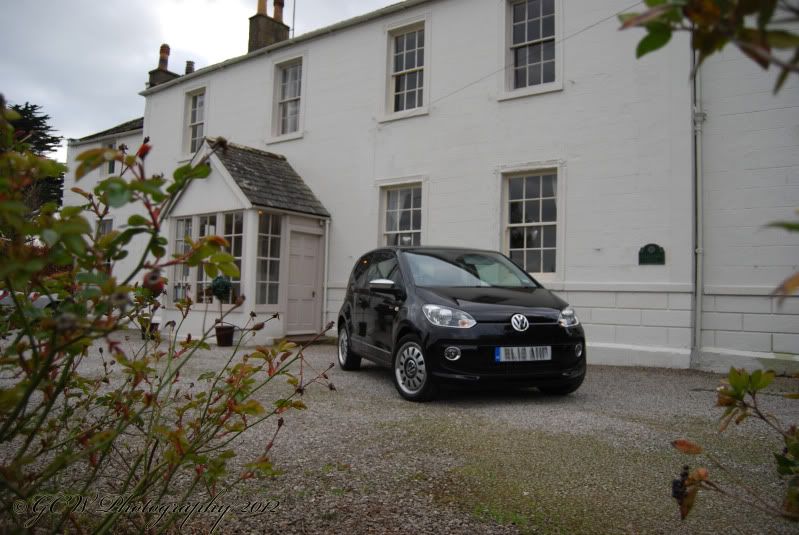 We ended up driving on some very
small winding roads (Hardknott pass and the roads around Buttermere) and the UP
handled brilliantly round the bends, inclines and steep declines like it was on
rails. When driving (or passengering),
the ride quality could quite easily be that of a more expensive VW. The seats are comfortable and when cornering
there was very little body roll and that was without the sports pack.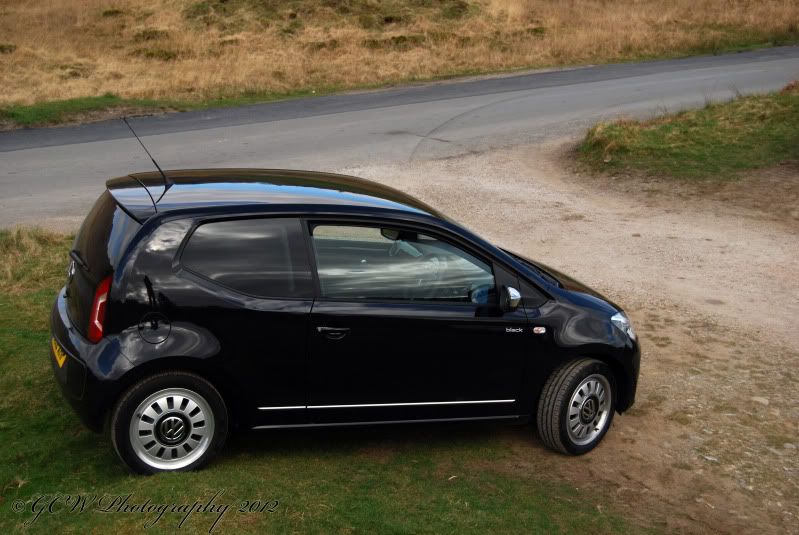 We certainly put this car through
its paces in the city, on motorways and country roads. Unfortunately the maps and more could not be
supplied to try out, but using the car on all terrain we still averaged around
400 miles to a tank of fuel which was excellent value.
To conclude, we found that the new
UP! is definitely one to buy. It has
everything that you could want from a small car and so much more and we think
it will appeal to a wide variety of people.
VW has definitely come up with a winner this time. Thank you so much to all at Western VW for
the opportunity to test out this fantastic wee car, Kim had to prize the keys
from our hands when we got back! So for
now we are UP!less and will just have to be patient till our supercar arrives.
Edited by: gary02tdi